Kate Pleskac
---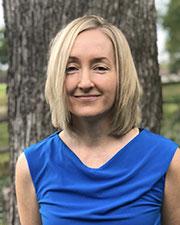 Senior Graduate Coordinator
Mathematics, Economics
Biography
—
Kate's primary job is to ensure a student's successful progression through their MA or Ph.D program.
Her responsibilities are to:
Connect students with available resources 
Guide students through the GTA/GRA hiring process
Recruit and assist prospective students
Advocate for students as College-wide administrative processes/policies evolve
Verify that students have fulfilled all program and University requirements for their degree
Ensure that documentation required for graduation is correctly submitted
Kate loves new tech, tips & tricks, keyboard shortcuts…basically anything that can make life easier. She graduated from the University of Iowa with degrees in Journalism and Sociology. While a Midwest native, Kate has lived in 10 cities, 6 states, and 3 countries. She joined the COGA team in 2018.​