Morgan Swartzlander
---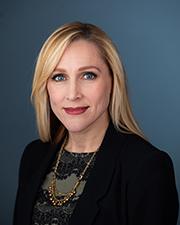 Associate Director
College Office of Graduate Affairs
She/her/hers
Biography
—
Morgan Swartzlander advises students, faculty, and staff regarding College and University policy and best practices related to graduate student exams and milestones, student petitions, graduate certificates, enrollment, GTA/GRA/GA policies, and graduation.  Morgan also manages the Progress to Degree (PTD) system for the College, verifies graduate student degrees as part of the KU graduation process, and reviews and endorses all enrollment forms at the School level.
Morgan also provides leadership to COGA's Student Services team, supervising COGA's Graduate Academic Advisors, as well as overseeing special projects and training aimed at improving the quality of advising and graduate administrative support across the College.  This includes providing training to new and continuing graduate support staff in the College on University and College of Liberal Arts & Sciences graduate policy, best-practices, and administrative processes (e.g. PTD system).
Morgan first joined KU and the COGA team in 2011 as an Academic Advisor for 5 Humanities departments, and then began leading COGA's Student Services team in 2014. She is a Springfield, Missouri native, and received her B.A. in Spanish from the University of Missouri in 2005.